HOW TO FIND YOUR THEME LICENSE CERTIFICATE AND CODE AT THEMEFOREST
Following is an image of what one would see when they go to the Download portion of their Themeforest account. Once the license certificate has downloaded to your computer, please open it up and a few lines into it you will see your "Item Purchase Code".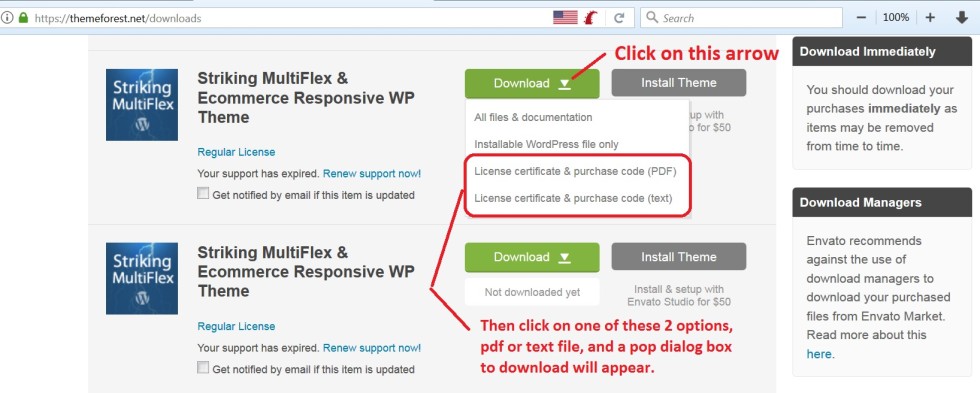 The file is temporarily unavailable.
STRIKING 4.0 – 2022
This new version of Striking incorporates some of the basic functionality of our WP Champion theme and its main goals are to update the functionality of Striking including bringing into it a WYSIWYG front end editor. We decided to integrate Elementor, a premium Elementor addon plugin (Super Elements) and we also install with the theme 2 free useful elementor plugins: Anywhere Elementor and Flexible Elementor Panel.
The goal is to allow users to upgrade keep all their existing content intact, and they can commence updating this content and building new content using Elementor. Our experience is that most customers who are not professional designers stop using most shortcodes and build out new content with Elementor. As many of our shortcodes involve executing js within custom fields, and Elementor does not work like this we have not converted our shortcodes to elementor widgets. And many Striking customers have large sites which they will not rebuild all their past posts and product pages.
But you can still update existing content pages with elementor built sections, and if you have a favorite shortcode you can use it in an Elementor page using the Elementor Shortcode widget. When you open a Striking build page with the Elementor Editor you will see all the content appears in one Elementor Test Widget. So how do you add Elementor sections to this page? You can do the following: add elementor content above, add elementor content below, and by creating a section of content in Anywhere Elementor (AE) and then grabbing the shortcode string AE creates once you have saved the section you can insert that shortcode string into the Elementor Text Widget (just put the shortcode into the content where you desire it).
Licensing
In order to obtain Striking 4.0 and use it on a website you must own a Striking MultiFlex license and its Envato Item Support must be current. However, renewals of Striking 4.0 are going to be moved away from Envato to our own platform, and instead of semi-annual they will be annual. You will require a separate license for each site. Our licensing system provides better tracking and management systems vs the Envato system. It will be in place in Dec 20121/Jan2022.
With Elementor you get to new page templates: Elementor Canvas, and Elementor Full Width. Canvas is a complete empty page with no header, footer, or anything else. Elementor Full Width will have the theme header and subfooter, but no feature header, body or footer. There can be some instances where either of these templates is useful, but it should be remembered that our normal theme templates have many seo advantages such meta tagging for search engines and breadcrumbs, all of which are valuable for search engine optimization. We normally recommend you use the theme templates where possible.
Multiflex 4.0 Theme Upgrades
PLUGINS
Updated: Theme Extension plugin to version 3.0.0
Updated: Revslider to version 6.5.24
Added: Super Elements Premium Plugin – currently V2.2.7
Added: MultiFlex Menu responsive/mobile menu plugin – currently version 3.1.35
Added: Anywhere Elementor Plugin – from the wp plugin codex
Added: Flexible Elementor Panel
Anywhere Elementor has several purposes: it allows creation of global content sections and when you edit the section it will apply everywhere it is in use. You also can create an template in AE which after saving has a shortcode which you can use in the regular editor or in a text widget if in the Elementor editor.
NEW FEATURES
Added: Inner Width Setting. Now One can breakout the 980px setting of striking.
Added: margin-half setting for columns, portfolio columns, blog list columns, footer columns. Global and in the shortcode.
Added: Padding setting for top level menu items for various breakpoints. Note works not on button mode navigation items. This in order to support the new content inner width setting.
Added: portfolio single post featured image setting (left/right/full) with page override.
Added: Breakpoint Setting for Responsive Menu plugin in the theme advanced settings.
Added: Menu item Color setting for the theme icon in the responsive menu.
Added: Settings to support for elementor pro footer header templates.
Added: Elementor follow inner width setting with page override.
Added: Shortcode for breadcrumb & meta-items.
Added: Breadcrumbs hidden setting with page overrides.
Added: Navigation Container BG color setting.
Added: Navigation Container BG color settings for mobile mode.
Added: Customized highly Responsive Menu plugin. We renamed it to Multiflex Responsive Menu. When using the default Repsonsive Menu plugin a lot of added settings will not work as intended.
Added: Turn OFF Gutenberg widgets when Gutenberg editor is turned off in the Theme advanced settings.
Added: Navigation alignment left/right /center
Added: Navigation Offset setting per breakpoint.
Added: Navigation Fullwidth / Fit to Inner Width setting.
Added: Free Elementor, Anywhere Elementor, Flexible Elementor Pane plugin.
Added: premium plugin Super elements for elementor.
Added: Unloading theme style.css on certain plugin pages to avoid css conflicts with theme admin css. Adjustable by filter.
Added: Color Picker reset preview color on back, delete, ctrl+v, ctrl+x key strokes.
Added: Added support Taxonomy Text %s for the taxonomy description.
Added: Modified Date to Meta Items.
Added: Extra settings to gallery shortcode: Media library Image selector, Portfolio Gallery selector, Caption ON/OFF lightbox, Caption ON/OFF Image, Lightbox Groupname Spanning, Include to post attached images ON/OFF.
Added: Extra Settings to masonry shortcode: All Post types can be used in the masonry now. Featured Image ON/OFF, Title Length, Title Fontsize, Title Line height, Multiple color settings (text color, backround color, border color, borderwidth, meta color settings).
Added: New Icon font picker.
Added: Ability to add custom icons.
Added: Excluding current post item from recent, popular, related posts overviews (single post, single portfolio and widgets). Override is available by apply_filters.
Added: FloC disable setting in the Theme Advanced Settings. https://make.wordpress.org/core/2021/04/18/proposal-treat-floc-as-a-security-concern/
Added: Woocommerce turn on/off default shop page listed products. By turning off this setting you can build your own custom shop page with custom content and have the products breadcrumb in the single product pages point to the correct shop page url.
Added: Product Thumbnail columns override setting into Theme Product Options Sidepanel.
Added: ON/OFF Setting to make the selected portfolio breadcrumbs page visible in the yoast seo breadcrumbs path.
Added: code to turn OFF support for block widgets when gutenberg has been disabled in the theme settings.
Added: Check for slider tyoe in featured header settings when a user downgrades from champion to striking multiflex.
Added: adaptive height image support for blog left / right float featured image.